For those who missed the beginnings, here you can find day1 and day2. Enjoy !
Ken woke up quite early (well, early for me). Not a surprise as he went to sleep very early the day before. As I was too tired to get up (jet lag, late night and beer, you can imagine ...), he went to eat breakfast and play with the Internet. I slept a bit more and was ready around 10am or something like that. We asked for our driver and we were told that we would keep him for the whole day. So something like 60 dollars to drive 500 kms (4 hours to go, and 4 hours for him to come back) and bring us to the cave and the fort. We first went to Ellora caves, as it was the purpose of our visit to Aurangabad.
Of course, as this is a touristic place, a dozen of sellers jumped on our backs to sell us some crap. I had the bright idea to talk in French so that they would finally guess we don't speak English. It worked quite well, even if Ken kept repeating: "Je ne parle pas francais", the only sentence he knows in French ! We first took the middle path and arrived to the cave number 16. They asked for a fee to visit. It was also said it was the only one we had to pay to see. Anyways, it was not expensive and was probably the best one. So we bought two tickets and went inside. This was like in an Indiana Jones movie. A series (with an "s" ;-) ) of caves (or rather temples), dug in the rock. A few black birds also to scare us, and lots lots of vampire birds !!!!! Damn, I hate bats !
The cave number 16, from outside.
The cave number 16, detail.
That's where we decided we wanted to buy the cave number 16, and starting to foresee our parties on the garden ;-)
After visiting a few temples, we went back to the car. We asked the driver to go to the fort. But he started the car before we finished our sentence. We were not sure he had understood, so we told him several times and showed him pictures he barely looked at. Oh well, probably he had understood after all and did not need us to repeat 5 times the same thing. After we passed Ellora, we were surprised we were going north (to be completely honest, it looked like we went north, and then north, and always north. I did not understand in the end which road we took as we were supposed to go west and a little south after going to some town in the north). The thing is that the driver kept driving. We were quite far from Ellora now, which was not correct according to our map at all. So we asked him again to go to the fort. He kept driving. We had no idea if he had understood us. After a moment, I was convinced that 1- our map was terribly wrong OR 2- he was driving directly to Nashik and did not understand a single word of what we said ! After 45 minutes of driving, Ken had the idea of calling the hotel. We thus asked the driver to pull over (not easy !!!) and called the hotel and explained our problem. They translated to the driver who had not understood anything. We went back to Ellora and to the fort.
Daulatabad fort, from far far away ...
The fort was an amazing place, probably even nicer than the caves. We were glad we did not miss that after all ! We were so entousiastic that we began to climb, without even taking water with us. I first thought it wasn't such a big deal as we probably could not go to the top anyways. On our way, we passed a huge swimming pool (with no water in it, sniff, so sad) and later some temple with lots of columns. No idea of if it had always been like that. It looked like a sanctuary to me, while Ken rather thought it had a roof before, some wooden roof that would have rotten over the years. We still don't know, but it was magical.
What a nice swimming pool !!
A series of columns
Then, as we continued climbing, a group or people asked us to take a picture. I first thought they wanted to take a picture of us with our camera, to steal it (yeah, so much for me trusting people !). As it turned out, they took a picture of us and them with their camera. They simply wanted a picture with us, white foreigners with blue eyes and blond hair. Several time during our climbing we were asked for pictures, like movie stars. This was so weird. We also crossed many groups of school kids, climbing the fort with us, or going down from the top. All of them were very happy to see us, they were happy to practice their English. So we played the game and said hi to them, and waved.
As we were climbing up and up, we began to feel the lack for water ! A few more meters and Ken was having hallucinations! He saw a monkey crossing our path ... hum ... We finally reached the top. The view was amazing and I was thirsty ! I wanted to lie down and die, but we could even go higher. Each time we were reaching what we thought was the top, we discovered we could go further. So we continued ! Almost at the top, a guy was selling water, for stupid tourists like us who forgot to take some. Every school kid had a bottle with them. We did not. The sun was burning. We did not buy the water however 'cause it was probably not very safe. But this was the hell of a business ! We also passed some women who were gathering stones. I have no idea what for ... Eventually, we reached to very top of the fort. We were very proud of us !
A view from the top. Next to the orange column, you can see the huge swimming pool. We started climbing where the bunch of trees are, roughly in the middle of the photo.
Then, we began to come back. Still lacking water ... but going down was easier. Then, we saw a bunch of monkeys ! Two of them were following us and stopped on a wall to rest a little. A bit further, many monkeys were filling a tree. A few steps later, two monkeys were playing together. Magical ....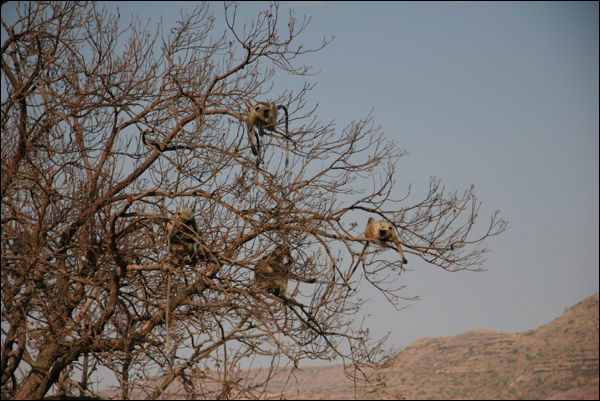 A Monkey Tree !
Once at the bottom, we ran to the first little shop to buy two bottles of cold water ! Then, we explained our driver we wanted some food, but in some kind of restaurant, not in the street. We had to mime it, to be sure he understood. This time, he did understand and stopped at some restaurant on our way to Nashik. The owners of the restaurant were very nice. We ordered some spicy chicken and we got onions and tomatoes in addition for free (not that the meal was any close to expensive !). Too bad we did not like onions ! Our driver bought some figs and gave some to us. All of them were very kind and this was a very enjoyable meal. We then drove directly to Nashik.
Once in the city, we saw that our driver did not quite understand we wanted to go to the Taj (even if we showed him the address written down). He asked several times for directions and we were also paying attention to the hotels along the road. Then, we saw "Taj" written on a hotel, so we told our driver to go there. That's about when we realized that he could not read English characters ! That's why he was having such a hard time even if we had the address and name of the hotel written on a piece of paper. We finally checked in and met our friends there. As we did not have dinner yet (but they had already), we aimed at some bar/restaurant place. However, the first place we checked was under renovation, so we went to another one. As we did not tell our little cabs (the motorcycle thingy) drivers to wait for us, we had a hard time finding two other ones. Then Ramesh caught a guy who had a nice car and asked him if he could bring us to this other place. The guy was supposed to go in the other direction, but he took us to the place, even if it wasn't that close.
Once at the restaurant, we sadly discovered they were not serving any alcohol. So much for me wanting a beer ! But they had very spicy curry chicken. I ordered one of those (don't remember the exact name). The waiter tried to discourage me, telling me it was too spicy for me. And I kept telling him I could eat spicy food. He finally agreed to serve me what I was asking and looked carefully at my face while I was eating. However, I really can eat very spicy food and he was astonished ! lol ... This was funny. And the food was really excellent ! After that, we went back to the hotel and had a beer. As the bar was closed, we had to order the beers from our rooms. They did not want to serve us from the lobby. So we ordered from a room and went back to the lobby afterwards. Then, we went to sleep.