Before you read day4, you might want to read day1, day2 and day3.
The next morning was the shopping day ! I went with Jana (the bride) and Ramesh's sister in law, his sister and his niece for girly shopping. Jana and me needed a dress for the party the same evening. I also needed a dress for the ceremony the next day... I would never have thought shopping for a dress was so difficult. It turned out that Jana and me had the same taste, very practical to speed up the search process. After seeing maybe 50 dresses in the first shop, we decided to try one each. In both cases they were too small. The dress Jana had chosen could still be enlarged a little, but the price was far too high. So we finally went to another shop, and another, and another. In one of them, we had seen a very gorgeous red dress. However, Ramesh's family thought it wasn't fancy enough for the bride and I did not try it as it was perfect for Jana to my opinion. Arriving at our last shop, I finally found something not too fancy where I could fit in. It was a little too large, so I asked them to nail a little more the top. Jana finally decided to go back to the other shop. We had our dresses for the evening. While they were nailing my outfit, Ramesh's sisters began to discuss with the tailor. They finally proposed to nail me a dress from scratch, with a very shiny blue fabrics. A little too shiny for me, but I had not much choice left so I agreed. They told me I could pick up the dress the next morning. We then hurried back to the hotel to get ready.
The party was supposed to start at 6pm, indian time. But I did not know yet about Indian time, so at around 5 past 6, I bothered Ken so that we would go to the party. Nobody had arrived yet. We were about to give up and go back to our rooms when some of our friends showed up. Very late, but still too early. So we finally hung out in the lobby, then in the garden, next to the swimming pool. One our later, people began to arrive. Then the bride and the groom showed up, the party could begin.
A view of the garden and the swimming pool from the lobby, while everything is being prepared for the party
The party was a little strange in the sense that it seemed sort of disorganized, like if we were waiting for it to begin. This weird feeling is mainly due to the fact that I had no idea of what was supposed to happen. Thus, when the married couple sat on the stage, I thought something would finally happen. But nothing happened. People just kept going to the stage, say hi to them, and leave the stage. In the meantime, food was served and coming on plate, the bar had opened. As we did not really know what to do, we went to catch a drink at the bar, as well as many starters. Eventually, after a while, we understood there was nothing we should wait for, and the party was really happening. The point of the stage was to sort of expose the couple, and enable everyone to come and greet them for the fact they were getting married. I guess it was also a way for the future husband to present her wife. So after a while, we decided we should go there too and say something. At the moment we decided, it appeared like it was over, Ramesh and Jana were about to leave ! lol ... But we caught them on time, wishing them happiness and things like that.
Ramesh and Jana, receiving gifts and congratulations and best wishes from their guests ...
... while in the meantime, we were (not) enjoying the red wine at the bar ... but we did enjoy the beer ;-)
A bit later, more food was served (food comes always as a surprise in India :-) ) and dancers began to perform a show on the stage. Then, we were supposed to dance. We tried. I guess Coach had a great time there.
The dancers performing on the stage ...
Then everybody dancing with them ... You can notice that if we (foreigners) were dressed like Indians, on the opposite, the modern/fashion way to dress in India is to be dressed like Europeans, hum ... lol ... Except for most of the women who rather kept the traditional costume.

Then, I told everyone I was a god ... no, not a goddess, but a "god person" ! lol ... As a god, I had a reputation to maintain. So I began ordering beer without moving or speaking, getting free cigarettes, and also came up with a plan for my last day in Mumbai ! While I was spreading my powers, Ramesh called me on stage. Hum ... Just after Coach, I had to find something to be funny. I had no idea what to do or say. Then, I thought I should stick to the "God" story. Hum, with everybody listening to me being from India, it was probably not the best idea ever. So I began like this : "I am a God. You should say Namaste to me !". Of course, everybody looked at me with big eyes, except a little girl who actualy stood up, said Namaste to me, and joined her hands. lol. It was perfect! But considering how popular I was among the adults, I had to find something. I needed a sort of trick that magicians do. Then Ramesh told me I should dance, some dance from my country. For this, I needed a volunteer from the audience. Of course, nobody wanted to go on stage with this crazy French girl, so I had to pick a guy myself ! He came, we danced a little, and then I left. I think it was not so bad in the end (there were laughs!), but I did not see the video yet (yes, it was recorded, OMG !).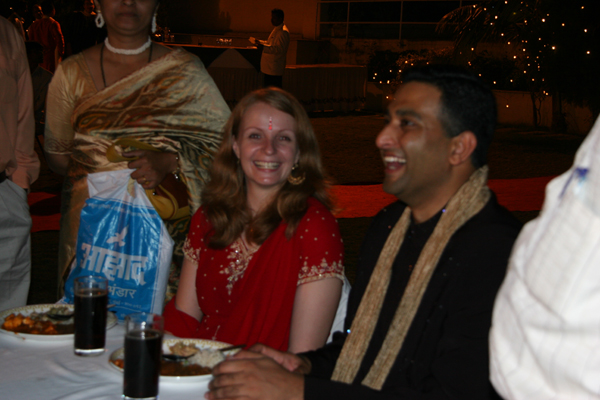 Ramesh and Jana, eating their special meal ...
After that, the married couple had to eat some special meal. We watched them and continued to discuss. After a moment, everybody was gone, except us (I mean us, foreigners). So I decided to jump into the water. Not that it was a sudden idea, no. Earlier in the afternoon, Ramesh had told me (I think he was serious, but now, I have a doubt!) that after the party, we could swim and use the swimming pool. I had answered "ok, sounds good". So well, it was time for swimming. But of course as I was a God, I had to challenge someone to go swimming with me. Coach seemed sort of enthousiastic and he did not dare to say no to the god person I was. But of course, as I was also me, I needed a bit of crazyness. The solution was easy, I did not put on a bath costume, so it was either naked or fully dressed. I chose the second option, tried the water, waited for the camcorder to be ready (this seemed to me like it lasted forever !), and jumped !
You can download the video here (sorry, no streaming :-) )
The water was excellent, I began to swim ... Then some guards came because they were not happy wth me swimming. Ramesh had an argument with them and explained that we were supposed to be allowed to swim, even late... to what they of course answered: "but not like that ! not fully dressed!!!". So I obeyed a little and finally came out of the swimming pool. But I was missing the water so much already (and this guard was not very nice), that I jumped again and swum a little more. That was more or less the end of the party. After that, Jana played the movie star and I played the photographer. This was very funny and recorded too I think. Then we went to sleep ...