Ca pourrait etre un super titre pour un roman policier, mais ce sont en fait deux titres mis bout a bout. Samedi, nous sommes allees voir une piece d'Agatha Christie intitulee Mousetrap. C'etait vraiment tres chouette. Je suis dans une periode romans policiers en ce moment, alors ca tombait bien. J'avais trouve qui etait le meutrier un peu avant l'entracte, mais il me manquait quand meme quelques details qui ne se sont devoiles qu'a la fin ! Les acteurs jouaient tres bien, on a vraiment passe un bon moment ! Je conseille ! Surtout que ca fait 50 ans que la piece se joue a Londres, c'est que c'est du bon :-)
Yesterday was a totally different experience. We went to Hampton Court.
Hampton Court by night ... with strange colors ;-)
That's one of the best castle I ever visited because of their live folks walking around the castle to teach history. While walking towards the Queen's apartments, we met Sir Cromwell himself who actually wanted to arrest us because we were following him! lol He took his role very seriously and managed to not laugh at all while explaining what thief he just pardoned or what other guy was recently executed! He had the "PARDON" orders written by hand and he was on his way to the King when we met him, for him to seal/stamp the orders.
Earlier, we went through the kitchens and saw fake pies, fishes and real chicken. Angie even made some Sugar desert. The cooks were also disguised.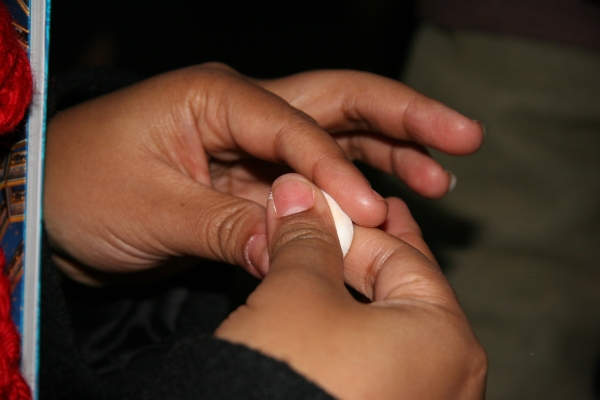 A guy writing in the kitchen...
After that, we went to the Great Hall to see the Queen dance (with another man !! muahahah !). Everybody could join the dance, lots of kids played the game, and some older folks. This was very educative and entertaining. In the evening, we wanted to go ice skating but there were so many people that the tickets were sold out. We did not want to wait 1h30 so we went home for some Tricks ;-)